Version History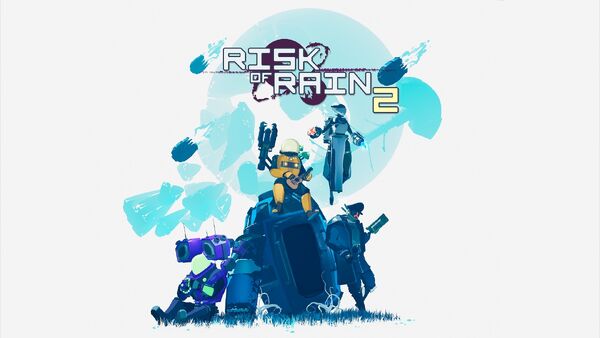 Risk of Rain 2 is developed by Hopoo Games and published by Gearbox Publishing.[1] The console version is supported by PlayEveryWare.[2]
It is currently available for Windows on Steam, and on Nintendo Switch, Sony PlayStation 4, and Microsoft Xbox One.
According to the developers[3], new content will be added in the upcoming 5 major updates before leaving early access.
Releases on console devices arrive after bugs and issues are addressed in the Steam release. Console updates arrive on all devices simultaneously.[4]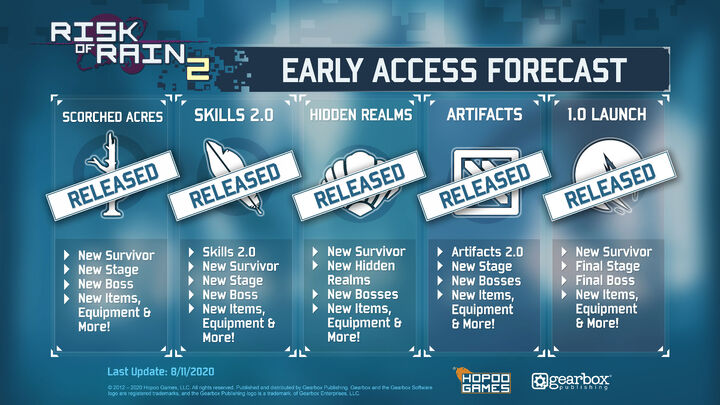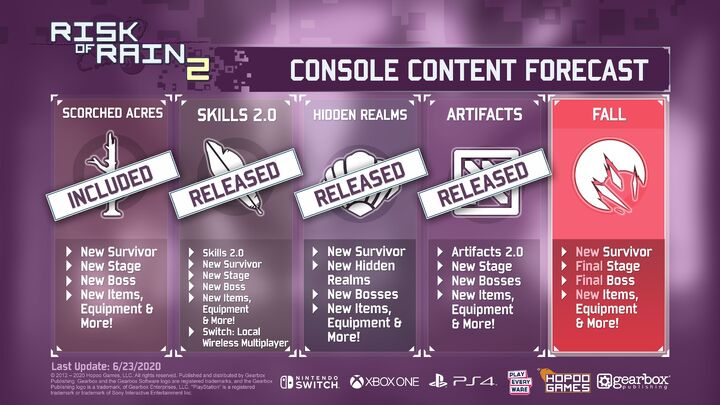 The below release dates are for the Steam version. Future release names and dates are subject to change.
| Version | Release date | Highlights & Notes |
| --- | --- | --- |
| 1.0 Launch | August 11, 2020 | New Survivor, Items & Equipments, Final Stage, Final Boss |
| Artifacts Update | March 31, 2020 | Artifacts 2.0[3], New Stage, Bosses, Items & Equipments |
| Hidden Realms Update | December 17, 2019 | New Survivor, Hidden Realm, Bosses, Items & Equipments |
| Skills 2.0 Update | September 17, 2019 | Skills 2.0[3], New Survivor, Stage, Boss, Items & Equipments |
| Scorched Acres Update | June 25, 2019 | New Survivor, Stage, Boss, Items & Equipments |
| Build ID #3830295 | May 21, 2019[5] | full localization support for 10 languages |
| Build ID #3743353 | April 16, 2019[6] | fixed bug introduced in Build ID #3731106 |
| Build ID #3731106 | April 16, 2019[6] | Rework Elites, Worms now have a grounded move pattern. |
| Build ID #3703355 | April 3, 2019[7] | Change the Teleporter's visual effects. |
| Early Access Launch | March 29, 2019[8] | Initial EA Release |